The Chatham Chorale has cancelled its Candlelight Christmas concerts on Sat. Dec. 18 and Sun. Dec. 19 due to concerns about COVID19. You will receive a refund for your ticket purchase. If you paid via our website using Eventbrite, your order will be fully refunded, ticket and fees, via the original credit card used.  If you paid by credit card via phone, we will reverse the charge on your card. If you paid by check, we will send you a check refund.  It may take 5-8 business days to process these refunds.  Please check your credit card statement and contact us if you don't see the refund within that time.
We are so sorry that we won't be singing for you this Christmas. Our spring 2022 concerts are still scheduled for March and May, and we will open ticket sales for those events after the New Year.
We wish you a healthy and peaceful holiday season.
The Chatham Chorale is back!
At last, we will launch our 50th season of singing for Cape Cod audiences.
We began in-person rehearsals on Thursday, September 16, 2021, at St. Peter's Lutheran Church in Harwich. All singers must be fully vaccinated and wear a mask.
The first public performances of the Chatham Chorale this year will be with the Cape Symphony in Holiday on the Cape. In an abbreviated 3-concert season, the Chatham Chorale will begin with Candlelight Christmas in December, followed in the spring by a Chatham Chorale Chamber Singers concert featuring the Liebeslieder Waltzes, and concluding with an anniversary benefit concert celebrating the 50th anniversary of the Chatham Chorale and the 300th anniversary of the First Congregational Church of Chatham.
We are thrilled to be singing together again and we look forward to seeing you at our concerts. In keeping with current health protocols, like other performing groups, until the pandemic eases all concert attendees will be required to provide proof of vaccination and identification and wear a mask.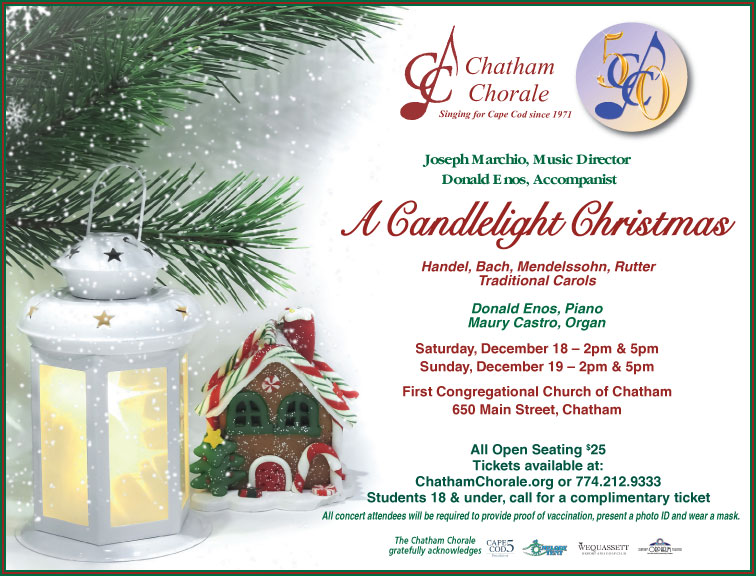 ---
Information for Prospective New Members
---
| | |
| --- | --- |
| | Click the Donate button to donate to the Chatham Chorale. |
Donate to the Chatham Chorale just by shopping at AmazonSmile
If you shop on Amazon, you can support the Chatham Chorale. Through your web browser go to AmazonSmile or click on the Amazon logo to the left and designate the Chatham Chorale Inc. as your charity of choice. Then SHOP! When you finalize the purchase you'll be using your Amazon account. Amazon will donate 0.5% of the purchase price of items you buy to the Chatham Chorale. You can also use the logo on the left to do your shopping. ​ Thank you for your support.
---
Chorale at Work and Play
Contact Us
Contact Information
Chatham Chorale, Inc.
P.O. Box 1111
West Dennis, MA 02670

chathamchorale@chathamchorale.org
774-212-9333
Board of Directors

T. Joseph Marchio, Music Director
Bud Ferris, President
Deborah Mahaney, President-elect
Mary Jo Nabywaniac, Clerk
Kathy Olsen, Treasurer
Pat Antonucci
Mary Giorgio
Lynn Herbst , Promotion
Cindy O'Leary, Membership
William Leigh, Webmaster
Faith Little
Shelly Sequin
Leslie Roselli
Marilyn Schlansky
Kent Arnold
chathamchorale@chathamchorale.org
774-212-9333